There were over 10 issues of The Electric Weenie in 3 different series! I don't have them all dug up yet but I do have most of them here.
The first series was 4 issues. Only the first issue remains in print. It's an 8 page mini comic that I'll sell for $.50.
Ninga Weenies!!

Issue 4 from the second series.

The second series ran in the early 90's and were 16 page mini comix. The series went to issue 5. They are all in print and $1.00 each.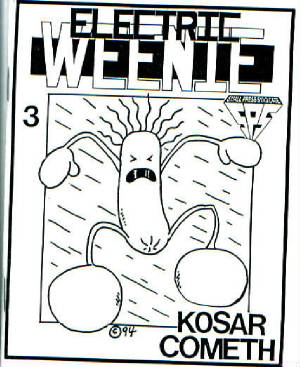 Electric Weenie Facts
Did you know that I was so inspired by meeting Matt Feazell and his Cynical Man comics that EW is a direct swipe? All I did was fatten Cynical Man up and make him even stupider.
It's a sad fact that The Electric Weenie has absolutely no powers? In fact, He's dumber than a bag of rocks. Word!